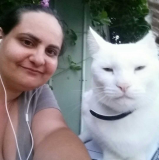 Welcome to The Yenn Purkis Autism Show. This is a space where Autistic advocate, author and presenter Yenn Purkis interviews people doing good things in the autism community.
This episode features the wonderful Karletta Abianac. The conversation centres around autistic people accessing mental health services.
Karletta Abianac is a podcaster, writer of memoir and poetry and blogger.
In her free time, Karletta enjoys writing poetry and memoir, practicing Egyptian hieroglyphs and collecting rocks near her home in Brisbane.